by dwb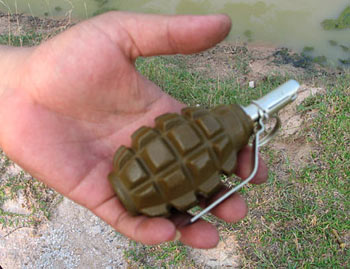 I went to Phnom Penh, Cambodia for a few days of total debauchery and danger.
We went to the shooting range where we shot AK-47s, Tommy Guns, M16s, threw some hand grenades and even shot at a cow with some sort of rocket launcher.
$30 per 100 bullets. $30 per grenade. $200 for the rocket. $300 for the cow. Free steak dinner after the shoot… priceless.

That night we went out in search for some young tail that was around 18 – 19 years old. We ended up in some dark and filthy slum where we were offered 8 – 11 year old girls by some shady dude who looked like he wanted to cut our throats. We kindly declined and moved onto girls who actually had pussy hair and tits.
Once we found older girls, it was the typical wham bam, thank you mam, hope you don't get pregnant, catch ya later routine. All for the low price of $20.
You can get $4 "taxi girls" on the side of the road sitting in shacks. These are mostly for locals, who only pay $3, but if you find one that does run from you when you pull up… it's a cheap pump and dump if one were so inclined.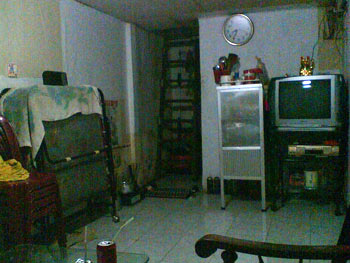 This photo is one of the places we were taken to where they paraded little girls out for us. It was literally in the middle of a horrible slum somewhere in the city. We had to walk for about 10 minutes or so through the slum, just to get to this little place. Through tiny walkways where sewers were spewing into it. In-between a few buildings where we literally had to walk through sideways so we would fit. It was crazy and scary. Stupid really. Then after all of that, they took us to a child prostitution shack. As a tip, don't ask for "small ladies" in Cambodia unless you're looking for kids, as we found out the hard way that is what it means.
What may have been a little more unnerving than walking to the place was walking out of it. After we declined their little girls, I had this feeling in my stomach that maybe we had seen something we shouldn't have and because we didn't partake, it may cause problems for us. But it didn't and they took us out of there and onward. Creepy. Very creepy. And sad.
What I did find odd about the child prostitutes was, they were Vietnamese and not Cambodian. I assume they were kidnapped or bought from poor Vietnamese families. I'm not sure if they do this to their own girls or not, but this f-shack was 100% Vietnamese. Or so they said. I can only hope they shut all of these places down.
OK, that was a downer. Lets change the topic.
The next night I spent some time in search of shrooms but was sadly defeated. I wanted to eat some and run around the city until I got mugged. Probably would not have had to go far, a lot of the city is pretty shady once the sun goes down. Any place that will sell you a little girl and let you shoot rockets at cows, will not think twice about gutting you for a dime. Maybe less.
Cambodia sticks it to you with a $25 entry AND a $25 exit fee. But I guess after you blew a few hundred bucks to shoot a rocket at a cow, $50 is no big deal.
I'm glad I missed the cow though. It's not as easy as you'd think to shoot one of those things.